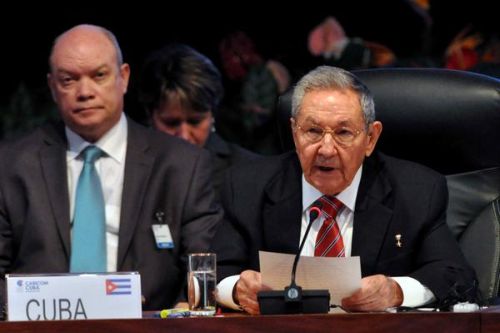 KEY REMARKS BY ARMY GENERAL RAUL CASTRO RUZ, PRESIDENT OF THE STATE COUNCIL AND THE COUNCIL OF MINISTERS, AT THE OPENING SESSION OF THE 5TH CARICOM-CUBA SUMMIT.
DECEMBER
8TH, 2014
Honourable Gaston Alphonse Brown, prime minister of Antigua and Barbuda, and Chairman of CARICOM;
Honourable Heads of State or Government of CARICOM member countries;
His Excellency Irwin Larocque, secretary general of CARICOM;
His Excellency Mr Didacus Jules, director general of the Organisation of Eastern Caribbean States;
His Excellency Mr Alfonso Múnera Cavadía, secretary general of the Association of  Caribbean States;
Allow me to extend a warm welcome and to wish you all a pleasant stay in our country.
It gives us great pleasure to receive here the leaders and representatives of the Caribbean family. We share a common history of slavery, colonialism and struggles for freedom, independence and development, which is the melting pot where our cultures have merged. We also face similar challenges that can only be met through close unity and efficient cooperation.
Such is the meaning and purpose of these summits held every three years, and aimed at fostering and strengthening our fraternal engagement in cooperation, solidarity and coordination to move towards the necessary Latin American and Caribbean integration; a dream of the forefathers of our independence deferred for more than 200 years, and which is today crucial to our survival.
The successful evolution of CARICOM, the involvement of all its member states and Cuba with the Community of Latin American and Caribbean States (CELAC) and the Association of Caribbean States (ACS) as well as the participation of some of us in the Bolivarian Alliance of the Peoples of Our America (ALBA-TCP) and Petrocarib have helped to advance regional integration, and we should continue working for its consolidation.
Esteemed Heads of State or Government;
Guests;
Every year on this day we celebrate the anniversary of the establishment of diplomatic relations with Cuba by the first four nations of the Caribbean Community to accede to independence.
As comrade Fidel Castro Ruz stated at the commemoration of the 30th anniversary of that seminal event, "Probably, the leaders of these countries, also considered the founding fathers of the independence of their nations and of Caribbean integration, –Errol Barrow from Barbados, Forbes Burnham from Guyana, Michael Manley from Jamaica and Eric Williams from Trinidad and Tobago—realised that their decision to establish diplomatic relations with Cuba was paving the way for the future foreign policy of the Caribbean Community, which to this day stands on three major pillars: independence, courage and concerted action." This statement remains fully valid.
Forty-two years after that brave decision, we take pride in our excellent relations with every country in the Caribbean, and keep diplomatic missions in every capital.  And you also have diplomatic missions in Havana; the most recent from St. Kits and Nevis was officially opened last June 25th with our dear friend the Very Honourable Prime Minister Denzil Douglas in attendance.
This moment seems fit to reaffirm that despite our economic difficulties, and the changes undertaken to upgrade our socioeconomic system, we willhonour our pledge to cooperate and share our modest achievements with our sister nations in the Caribbean.
Currently, we have 1,806 collaborators working in the CARICOM countries, 1,461 of them in the area of healthcare. Likewise, 4,991 Caribbean youths have graduated in Cuba while 1,055 remain studying in the Island.
Additionally, we are cooperating with the Caribbean, and shall continue to do so, in preventing and fighting the Ebola pandemic. This we are doing bilaterally as well as in the framework of ALBA and CELAC, with the support of the World Health Organisation (WHO) and the Pan American HealthOrganisation (PAHO).
The experts' meeting held in Havana at the end of October brought together specialists from the entire hemisphere, including representatives of non-independent Caribbean states. In the past few weeks, 61 officials, physicians, experts in healthcare and other areas from CARICOMN countries have been training in Cuba. On the other hand, we are answering the request of nine CARICOM States to provide Cuban assistance in training their countries' Medical staff.
As small island states and developing nations we are facing the challenge of surviving and making progress in a world shaken by a global economic crisis manifested in the financial and energy sectors, the environment and the food sector, deadly diseases and war conflicts. Today, I want to reiterate Cuba's unwavering decision to support, under any circumstances, the right of the small and vulnerable countries to be accorded a special and differential treatment in terms of access to trade and investments.
The challenges of the 21st century are forcing us to unite in order to face together the effects of climate change and natural disasters, to coordinate  our approach to the post-2015 development agenda, and particularly, to tackle together the domination mechanisms imposed by the unfair international financial system.
We join our voice to those of the Caribbean Community in demanding the immediate removal of our nations from unilateral lists that jeopardize our economic development and commercial exchanges with other countries.
Special attention is warranted by cooperation in confronting the effects of climate change. The rise of the sea level is threatening the very existence of many of our countries. The more frequent hurricanes, intensive rains and other phenomena are causing huge economic and human damages. We are left with no choice but to reinforce our coordination in order to confront this reality and reduce its major impact on water resources, coastal areas and marine species; biological diversity, agriculture and human settlements.
Cuba has conducted studies of dangers, vulnerabilities and risks and is already implementing a macro-project named "Coastal Dangers and Vulnerabilities 2050-2100". These include projects on the health condition of the coastal dunes and mangroves as well as an evaluation of the beaches, coastal settlements and their infrastructure; we are willing to share this experience with our sister nations of CARICOM.
We have lots of work to do. As we have indicated, in the coming three- year period, with the modest contribution of Cuba, a Regional Arts School will be opened in Jamaica and the Centre for Development Stimulation of children, teenagers and youths with special educational needs will start operating in Guyana.
On the other hand, more Caribbean students will be given the opportunity to pursue a college education in our country, especially in the area of Medicine. We will also help in the preparation of experts from the CARICOM countries in topics related to mitigation and confrontation of risks of natural disasters, and the difficult stage of recovery in the aftermath of such events.
Likewise, we shall continue offering our fraternal assistance in the development of human resources and in medical care. In the same token, doctors graduated in Cuba and working in their respective countries will be offered the possibility of studying a second specialty free of charge.
The development of trade and investments between our countries is still an unresolved issue. The difficulties with air and maritime transportation in the sub-region and the deterioration of our economies as a result of the international crisis are having a negative effect on progress in these areas. We should work toward creative and feasible solutions of benefit to all. In this connection, we welcome the joint efforts to update and review the Bilateral Trade and Cooperation Agreement, which will provide the free access with no customs duties of 297 products from CARICOM countries and 47 from Cuba.
I want to take this opportunity to reaffirm our steadfast support for the just demand of the CARICOM countries to be compensated by the colonial powers for the horrors of slavery, and for their equally fair claim to receive cooperation according to their real situation and necessities, and not on the basis of statistics of their per capita income that simply characterise them as middle-income countries and prevent their access to indispensable flows of financial resources.
It is our inescapable duty to support the reconstruction and development of the sister republic of Haiti, the birthplace of the first revolution in Latin America and the Caribbean fought in pursuit of independence, for we all have a debt of gratitude with that heroic and long-suffering people.
As I have said on previous occasions, Cubans are deeply grateful to our brothers and sisters in the Caribbean for your upright stance of respect for and solidarity with our Homeland.
We shall never forget your enduring support to the resolution against the blockade nor your numerous expressions of solidarity during the debates at the UN General Assembly and other international fora, rejecting the illegitimate inclusion of Cuba in the List of States Sponsors of Terrorism.
Distinguished Heads of State or Government;
Guests;
I would like to suggest that in this 5th CARICOM-Cuba Summit we exchange viable ideas and proposals to continue working together to increase our bilateral cooperation; to expand and diversify our economic and commercial relations; to confront the challenges imposed by the globalized, unfair and unequal world we live in fraught with grave problems that threaten the very existence of humankind; and, above all, to advance with steadier steps toward the indispensable political, economic and social integration of Latin America and the Caribbean.
We owe it to our peoples and such duty cannot be put off.
With no further delay I declare the 5th CARICOM-Cuba Summit officially opened.
Thank you.