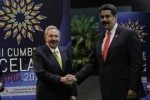 President Raul Castro bid Venezuelan President Nicolas Maduro Moros farewell at the Jose Marti International Airport.
Maduro visited Cuba to participate in the 2nd Summit of the Community of Latin American and Caribbean States (CELAC), recently concluded in Havana.
In exclusive interview with Cuban mass media, Maduro stated that during the summit, participants lived historic days marked by the spirit of unity that has impacted the continent.
About this matter, Maduro said the 2nd CELAC Summit, held in the island, was a success, although we had information of sabotages to avoid it. Maduro stated that he denounced early January the existence of intrigues by the U.S. Empire to thwart the regional bloc's forum.
The statesman warned on the need of unity of the countries of the bloc to face with success the international situation: "Either the region strengthens its union and moves together as a single ship against global blocs, or simply they will swallow one by one and we all end in the same mud of the division of the 19th century."
Maduro also recalled the transcendence of President Hugo Chavez for the establishment of CELAC, and congratulated the Cuban people for that special victory of the Latin American and Caribbean unity, which he described as a victory of the dimension Liberator Simon Bolivar and Cuban national hero Jose Marti dreamt.