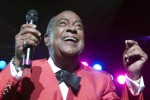 Well known Puerto Rican singer Cheo Feliciano, 78, died in a traffic accident when he was heading home, very early today. The fatality has caused deep sorrow in the country.
Feliciano, who was driving his Jaguar model vehicle, crashed at about 04:20 local time against an electricity pole in the area of Cupey, where he died at the scene, according to authorities.
The interpreter was heading towards his residence at the time of the accident and there are suspicions that the accident may have been caused by some health complications as he was diabetic.
Because he was not wearing a seat belt, authorities suspect that this aspect may have contributed to his death.
Singer Ismael Miranda tearfully revealed that both were preparing to travel to Mexico tomorrow, because on Saturday they planned a presentation in Acapulco.
Journalist Hiram Guadalupe reminded Prensa Latina that Cheo Feliciano not only excelled as salsa music performer, but also as a bolero singer.
Andy Montañez could barely articulate words when he learned of the tragic death of Cheo Feliciano, to whom he was joined by a relationship of personal affection beyond the music.
Like many others, Montañez was astonished because after overcoming cancer, Cheo's career had taken a new look.
The singer Jerry Rivas, from El Gran Combo of Puerto Rico, described his humility, calling him ¿my idol, my inspiration¿ in his beginning.
Feliciano's remains were transferred to the Institute of Forensic Sciences for autopsy, which will determine the possible cause of his death.