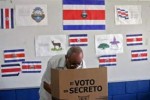 Costa Ricans are going to the polls today to vote for a new president, two vice presidents and 57 deputies to the Legislative Assembly (Parliament) for the 2014-2018 period.
This small Central American nation has 4.7 million inhabitants and 3 million 78 thousand 321 people over 18 years old have the right to vote.
Six thousand five hundred and fifteen polling stations have been established for the elections, and over 100 foreign observers were authorized for verifying the voting.
For the first time, 12 thousand 654 Costa Ricans living abroad will exercise their right to vote, and they have registered in 61 polling stations established in 52 consulates located in 42 nations.
A total of 49 thousand 963 foreigners living in Costa Rica, including Nicaraguans, Colombians, Salvadorians, and Chinese, will vote for the first time in the country's presidential elections.
According to the Elections Supreme Court, polling stations will open at 06:00 hours and will close at 18:00 hours local time, and it is expected that the results be ready two after concluding the voting.