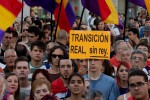 The 62 percent of Spaniards support the proposal of a referendum on Monarchy or Republic, brought up to politics with the abdication of the King, according to the poll of the Metroscopia company released this Sunday.
The inquiry conducted by El Pais newspaper, the first after the abdication announced by Juan Carlos on June 2, shows that only 34 percent are against the referendum and four percent are indifferent.
The proposal is supported by broad political sectors and the citizens who since the moment the decision of the monarch was announced they took the streets to demand their right to decide what kind of State the Spaniards want.
The monarchy, however, has the support of the Popular party (PP) and Spanish Socialist Workers Party (PSOE), who together have more than 80 percent of the votes of the Chamber of Deputies, where the decision will be taken on succession and referendum.
Republican politicians and analysts estimate that the surprise abdication was decided after the elections for the European Parliament on May 25, when PP and PSOE, guarantors of the monarchy, suffered a significant loss of votes.
If the tendency of the European to general elections 2015 is moved, PP and PSOE will not get even 50 percent of the Congressmen, which would make much more complicated a monarchical succession process, which must be endorsed by parliament.