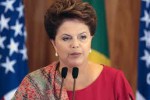 Brazilian President Dilma Rousseff, remains the favorite candidate today, with 40 percent support for re-election in the upcoming elections on October 5, according to a survey by the Vox Populi Institute.
Her nearest rival, Senator and leader of the Brazilian Social Democracy Party (PSDB), Aécio Neves, reached 16 percent of the intended vote, exposing a 24 percentage point advantage for Rousseff, noted the poll.
The other applicant for the presidential chair, the head of the socialist the PSB, Eduardo Campos, ascended two points and has eight percent support.
Campos, former governor of the state of Pernambuco, confirmed last Monday that he will run for head of state and announced as his running mate former Senator Marina Silva.
Another two percent of respondents said they would vote for the evangelical pastor Everaldo Pereira, the Social Christian Party (PSC ), according to Vox Populi. Of the 2,200 questioned in 161 municipalities in Brazil last April 6 to 8, 15 percent said they intended to leave the ballot blank or annulled in the forthcoming elections, while 18 percent said they had not yet defined their candidate.
Surveys made this year by other companies, like Datafholia, also confirm a triumph by the current president in the upcoming elections.