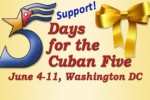 Legislators from a dozen countries traveled to Washington to join their voices today to demand freedom for the three Cuban anti-terrorists still confined in US jails and in support of Cuba.
The Cuban Five Day will mark, with a parliamentarians meeting, the growing movement of support that also gathers unionists, lawyers, writers, religious people, artists and personalities from different fields who claims an early solution to the case of Gerardo Hernández, Antonio Guerrero and Ramón Labañino.
For this Sunday is also expected that the people attending the solidarity meeting will pay tribute to Chilean foreign minister during the government of the Popular Unity, Orlando Letelier, in the same place that he was murdered in Washington in 1976.
Letelier was assassinated by the explosion of a remote-controlled bomb, which was placed under the floor of the car in which he was traveling.
The attack also killed his US assistant, Ronni Moffit, and her husband was also injured, Michael Moffitt.
The investigation process determined that a group of Cubans led by agents of the Central Intelligence Agency (CIA) planned and executed the crime.
To curb these acts against their country the Cuban Five infiltrated groups based in southern Florida until they were arrested on September 12, 1998.
The Third Journey for the Cuban Five in Washington DC began on June 4, coinciding with the 49th birthday of Hernandez, who faces the most serious sentence: double life sentence plus 15 years.
This annual event, which ends on Wednesday, is aimed at increasing political pressure to solve the case, as from quintet only two, Fernando Gonzalez and Rene Gonzalez, returned home after purging all of their penalties.