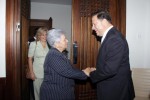 New Panamanian President Juan Carlos Varela welcomed Cuban Vice President Gladys Bejerano, who attended the mass inauguration ceremony at the stadium Rommel Fernandez in Panama City.
The Cuba delegation is also composed of Deputy Foreign Minister Ana Teresita Gonzalez and Cuban Ambassador to Panama Reynaldo Calviac.
Bejerano and Gonzalez arrive in Panama last night and few hours later were welcomed by the new president, with whom they talked about numerous issues of interest that will contribute to extend and strengthen bilateral relations, a diplomatic source reported.
The source added that the conversation developed in an atmosphere characterized by cordiality and both sides' wish to increase collaboration, and also talked about areas as education, tourism, health and others fields, in which it is possible to establish relations of mutual cooperation.
Bejerano thanked the new president for his Government commitment on supporting the struggle for elimination of the economic, trade and financial blockade of the island by the United States for more than half a century, and highlighted the friendly atmosphere in which the meeting developed.