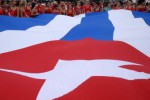 Over 115 union organizations from Latin America and the Caribbean will attend an international meeting to be held here in early May, organizers reported today.
The Workers Central Union of Cuba (CTC) said at a press conference that the sixth Trade Unions Meeting Nuestra America, from May 3 to 4, will approach labor unions in the region and discuss policies against transnationals and neoliberalism.
According to the Head of International Relations of the CTC, Ernesto Freyre, the meeting will discuss issues such as unemployment among women and youth and strategies to accompany the integration process in the area.
Days before the event, there will be a course for union leaders from Latin America and the Caribbean, as well as an international workshop on the history of the labor movement in Cuba and the world.
These activities are part of the program of May Day celebrations here.