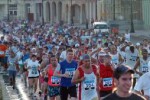 The 28th Marabana marathon competition has so far secured the participation of 213 runners from 31 countries, reported Carlos Gattorno director of the project, created in 1987.
This is the largest amount of foreign competitors guaranteed on this date in the history of the race. We are very excited about this, even more, if we already know that for the first time there will run more than 100 U.S. contestants, said Gattorno to Prensa Latina.
So far there are confirmed 213 foreigner runners and around 2,000 nationals, with secure registration for the race, in which will be used again the electronic timing chip provided by the Spanish firm Times Runners.
Gattorno added that the participation of the U.S. runners is possible thanks to a sport license for fans who gave the Treasury Department of the United States to Insight Cuba, a company that promotes exchanges village to village and allows travel of citizens of that nation to the island.
"We are very satisfied with the work we do with Tom Popper, president of Insight Cuba to meet this objective. It is our modest contribution to the rapprochement between the two countries," stressed Gattorno.
Since the early 80s last century took place the half marathon in Havana, exactly on Nov. 15, 1987, and since then only a few American riders could compete.
"Our purpose is they sharing with our people, that enjoy the beauty of the city, knowing close its people," said Gattorno.
This season Marabana-Maracuba hold its 28 edition, the 495 birthday of the town of San Cristobal de La Habana and the National Day of Physical Culture and Sport in Cuba.
The previous version Marabana-Maracuba was attended by about 3,000 runners from 35 nations and the winners of the marathon were the Cuban Henry Jaen with time of 2: 30.30 hours between men and Yailen García, 3:28 seconds, among females.