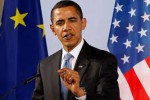 President Barack Obama began a tour of Europe today in the midst of the complex crisis facing his administration in regard to the situation in Ukraine, Syria and Iraq.
On September 3, in Estonia, Obama plans to meet with his counterpart in that country along with the leaders of Latvia and Lithuania.
September 4 and 5 he will attend the Summit for the North Atlantic Treaty Organization (NATO), in Wales, UK, where he will hold various meetings focused on current conflict scenarios.
The tour comes three months after Obama's visit to Poland, Belgium and France.
Since then, the Pentagon has increased its military presence in Europe and heightened tensions with Russia due to the situation in Ukraine, with a strong deployment that military, naval and aerial experts see as a revival of the similar confrontation during the Cold War.
Obama is being pressured by several lawmakers, who are calling for harsher sanctions against Russia.
The White House insists on accusing the Kremlin of intensifying the crisis in Ukraine, by alleging that it is providing support for the independence of the Donetsk and Lugansk regions in the east, something denied by Moscow authorities.
The Treasury Department and the European Union have issued several rounds of sanctions against politicians, officials, businessmen and Russian companies.
President Vladimir Putin expressed his disappointment at the Americans "for imposing unilateral sanctions that harm both bilateral relations and the efforts to find a compromise in Ukraine."
Also, Obama is being pushed by the Capitol to act now against the self-proclaimed Islamic State (IS) in Syria, ever since the group released a video several days ago purporting to document the beheading of U.S. journalist James Foley.