The New York Times requested President Barack Obama to swap American citizen Alan Gross, imprisoned in Cuba for covert actions, for three Cubans who being held prisoners in USA since 1998.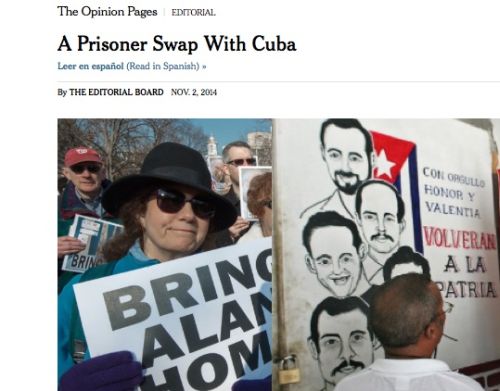 In an editorial released on Sunday, November 2, entitled "A Prisoner Swap With Cuba," the New York newspaper recognized that Alan Gross, a U.S. citizen who is complying with a 15-year prison sentence, was detained in Havana as a consequence of an irresponsible strategy by the U.S. government and this should find a solution.
Washington and Havana should assess the case of Gross and that of Cubans Gerardo Hernandez, Antonio Guerrero and Ramon Labañino, to take the first steps towards normalizing relations between both countries, the daily's editorialists state .
"An exchange could open the way to renew diplomatic ties, allowing that the United States had greater opportunities to promote positive changes in the island through the expansion of trade, tourism and increasing contacts among Cubans and Americans," the publication states.
"Otherwise, the enmity reigned for more than 50 years will be perpetuated, continuing a cycle of mistrust between the two sides."
The editorial admits that Gross traveled to Havana five time in 2009, by Development Alternatives Inc., which had a contract with the U.S. Agency for International Development (USAID) and pretending to be a tourist, he transported furtively communication equipment.
According to The New York Times, U.S. officials have concluded that to achieve Gross' freedom, it is necessary to repatriate the three Cubans who were sentenced at a Miami federal court in 2001.
The New York Times also stresses the inconsistencies in the legal process against the five Cubans who were detained in the United States on September 12, 1998, condemned to long and unjust prison sentences, who are internationally known as the Five, two of them already in Cuba after completing their sentences.
The daily also mentioned Judge Phyllis Kravitch, who argued that the charge of conspiracy to commit murder against Gerardo Hernandez was unfounded, whom prosecutors linked to the downing of two pirate aircrafts from Miami, who were shot down after violating the Cuban airspace in 1996.
The newspaper stresses that if Alan Gross, who has threatened to assassinate him in prison, dies while in custody, the possibility of establishing a healthy relationship with Cuba will disappear for several years.