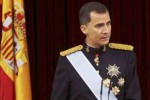 King Felipe VI called to set sights toward a new 21st century Spain, updated and united, with respect to its population's plurality and an integrated and accountable monarchy.
In his first speech before the General Courts during his proclamation, the monarch highlighted that his intention is to watch over the prestige of the institution and an honest conduct.
Only in this way, will the parliamentary monarchy have the moral authority to perform its duties, said Felipe VI, referring without actually mentioning it, to the decline of the Spanish Royal House, tarnished by scandals and accusations of corruption.
An updated monarchy for a new era, was the idea the King expressed twice while also calling for respect of autochthonous cultures and languages, in a speech that concluded with phrases in Basque, Catalan and Galician.
Referring to the economic crisis in the country, he said the struggle for employment, especially among young Spaniards, should constitute the first concern of the Spanish people, along with preservation of the environment and elimination of discrimination.
However, the first reactions to the King's speech showed the complexity that will accompany his reign, in a Spain divided by key issues like territoriality and what kind of State Spain will ultimately have.
Practically simultaneous with his call to a Spain united in diversity, Basque city councilors, mayors and parliamentarians stopped their regular work to demand the establishment of a republic in that autonomous region.
The changing of one Bourbon for another will not represent a major change, said nationalist party EH Bildu spokesman Hasier Arraiz, who predicted the continuity of the pro-independence movement in the Basque country and Catalonia.
The timid applause from Catalonian President Artus Mas at the ceremony brought criticism from the People's Party President in Catalonia, Alicia Sanchez-Camacho, who accused Mas of not being up to his responsibility.
Mas and the Basque Head of Government Iñigo Urkullu, stood out for their brief applause and scant attention to the functions that will conclude with the new Spanish King's ascent to the throne, which began on June 2, with King Juan Carlos's abdication.
In Madrid, a number of people were arrested for carrying republican symbols or demanding establishment of a republic, after city authorities prohibited public demonstrations unless they were to support the monarchy.
On the social networks, Deputy Gaspar Llamazares, member of the United Left party, said that Felipe VI's speech rang hollow, because he did not refer to a commitment to transparency, a struggle against corruption or respect for justice.
These and other opinions that show little trust in the new head of State, contrast with criteria like that from Government President Mariano Rajoy, who considered that the succession shows the existence of a Constitution that is being complied with.