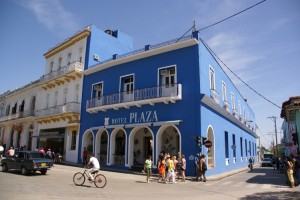 Don Florencio Hostel, currently being built in Sancti Spiritus on occasion of the village's 500th anniversary, will be the fourth Encanto chain hotel in this central Cuban territory.
Plaza, La Ronda, and Hotel del Rijo are the other three tourist facilities classified under that category, which is based on excellence services.
Dariel Hernandez Aleman, from the provincial tourism office, told AIN that since these facilities are rather small, the service is quite personalized, and the demands of the customers are better taken care of.
Tourist facilities are labeled Encanto only if they have historic or architectural values, and are found in central urban locations.
The future four-star Don Florencio Hostel is being constructed within the boulevard area. It will have eleven rooms, a bar, and a swimming pool or yacuzzi, among other facilities.
(Tken from Radio Sancti Spiritus, and translated by Escambray)