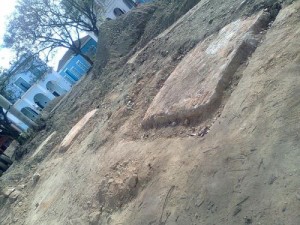 New structures that could be taken as the columns and façade foundations of the Franciscan church that once existed in Sancti Spiritus, were unveiled this Wednesday as part of the archeological investigation being carried out around Serafin Sanchez Park.
"Excavation works have been expanded in order to complete the original building of the church and the convent. Several other small structures have been found which might be related with the gate in the front side of the church", told Escambray Roger Arrazcaeta Delgado, director of the Archeology Cabinet of Havana's Historian Office.
The expert, who is in Sancti Spiritus as part of the team assisting the archaeological investigation, also referred to the composition of the bricks found, which seem to have been made with local clay. He also praised the project design of the future park, and pointed out that the final decision in this respect is still to be adopted.
On the other hand, Sancti Spiritus Historian María Antonieta Jiménez Margolles, who has dedicated herself to the historic investigation of the city for four decades, emphasized on the importance of the archeological discoveries. "They are the proof of the constructive style present in the territory almost 300 years ago. There is the church which was very important for the town, as well as the Convent of San Francisco, where grammar and moral lessons were given in times when there was no school at all in this part of the country", she said.