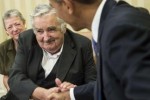 Uruguayan president Jose Mujica asked Barack Obama to take action and free the three Cuban anti-terrorists, who are still in US prisons, since the issue is a major factor to improve relations with Cuba.
Mujica said that he calls for the improvement of relations between the United States and countries such as Venezuela, Bolivia, Ecuador and Nicaragua, though it was not a personal mission in his recent meeting with Obama.
"I do what I can, I defend the interests of the group of countries to which I belong, if I see a door open I try to get in, but I'm not God.
I'm trying to do diplomacy till I can," Mujica told reporters after meeting with Barack Obama.
As to Venezuela, the Uruguayan president said that his government is willing to mediate between the opposition and the Bolivarian government if Uruguay is called to do so.
Mujica said he was much linked to the Venezuelan political process and said that the sector that is trying to topple the government of Nicolas Maduro does not represent the majority of the opposition, which has two different trends.
Mujica said that during his meeting with Obama, he made it clear that he wants the Union of Latin American Nations, the Organization of American States and other institutions to help find a peaceful and democratic solution to the situation in Venezuela.