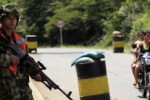 About 430 000 military men will be deployed in Colombia to guard the presidential elections next Sunday, when five candidates will fight for ruling the country during the period 2014-2018.
According to the Defense Minister Juan Carlos Pinzon, in the 10,642 polling stations will be 246,000 troops, 100,000 more than in the 2010 elections.
To ensure normality in the first round, 75 municipalities in 16 departments will be guarded by more than 23,000 men and women of the Navy deployed in urban, rural and island regions, the ministry said.
The Navy will conduct maritime patrols with Coast Guard units, air patrols with aircraft and helicopters of the Naval Aviation, and will also guard more than 13,000 kilometers of rivers.
More than 32 million Colombians are called to vote on Sunday, over 17 million women and 15 million men who will elect the next president and vice president.
The authorities have taken several measures, including prohibition from carrying weapons from Friday until next Wednesday. They also prohibited the sale and consumption of alcoholic beverages from today until Monday.
In Bogota, 9,200 police officers and 2,000 members of the Army will monitor the main streets and sites like Plaza Bolivar and Corferias.