Cuban First Vice-President Miguel Díaz-Canel, held talks with Prime Minister of Guinea Bissau, Domingos Simoes, who currently visits the island.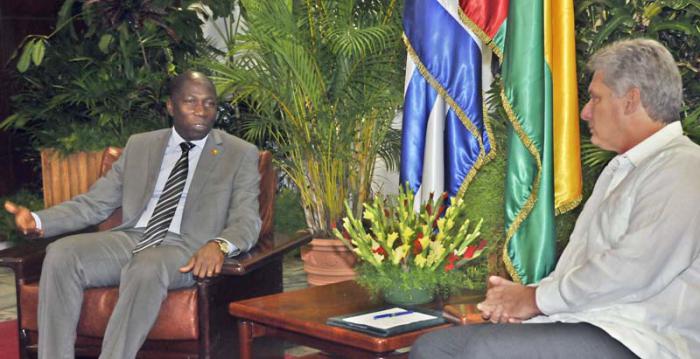 Both officials extolled the friendly relations between Cuba and Guinea-Bissau, established since October, 1973.
During the conversation, they reiterated common willingness to cooperate in areas like health, education and agriculture.
Talks were also attended by the minister of Foreign Business, International Cooperation and Communities, Mario Lopes da Rosa and the Minister of Defense Cadi Marie, while for Cuba participated Deputy Minister of Foreign Relations, Rogelio Sierra, accompanied by several officials of the Foreign Ministry.
In the morning, Simoes paid tribute to Jose Marti, national hero of Cuba, laying a wreath before the monument at the Plaza de la Revolution of this capital.
Simoes also toured the Memorial, where a lot of details of the life of Jose Marti are kept.
The official stay of the prime minister of Guinea Bissau ends this Tuesday.