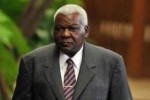 The 14th Mexico-Cuba Inter-Parliamentary Meeting is taking place today in Mexico to strengthen ties of friendship and cooperation between the two countries, legislators attending the event said.
According to Mexican Chamber of Deputies president Ricardo Anaya, during the meeting, participants will approve actions of solidarity and friendship with representatives of the Caribbean action, as well as discuss issues linked to investment, trade, immigration, and culture.
The event will result in the normalization of ties between both governments, stated the legislator, after commenting that diplomatic relations between those Latin American nations are only the framework, but not the limit of friendly ties among these peoples, united for culture, tradition, and history.
Anaya said the meeting will also give continuity to information permanently exchanged by the parliaments in economy, productive sectors, environment, and social development.
During the opening ceremony, in which Esteban Lazo, President of the Cuban National Assembly of People's Power, and Mexican Senate president Raul Cervantes will attend, participants will clearly establish the interest of our Congress to contribute that both nations reach full development, he noted.
Lazo arrived in yesterday to the Benito Juarez International Airport in the Federal District, leading his country's delegation to attend the meeting.
In statements to Prensa Latina, the Cuban Parliament president expressed happiness of being in Mexico, a country that has maintained a historic relation with the Caribbean island.