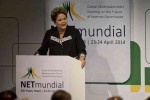 Representatives from more than 80 countries and international organizations ends today details of a non-binding document that establishes lines of action to achieve global Internet governance.
In this final day of the Multisectorial Global meeting on the Future of the Cyberspace Governance, participants seeking a consensus on the rules to be applied to ensure greater participation and individual rights of citizens.
The inviolability of the data, equality in the use of this virtual space and the free flow of information are claims included in the final declaration of the meeting.
The father of the web, Tim Berners-Lee, defendeed the proposal of Brazilian President Dilma Rouseff, of creating a proposal for Civil Marco for cyberspace in order to democratize the use of the Internet and protect fundamental human rights, such as privacy.
Barners-Lee also welcomed the adoption of a kind of Brazilian constitution for the network that ensures individual rights of people, participatory pluralism and neutrality.
That is a legislation that will help safeguard the information from users and providers of this service, he added.
The Brazilian Civil Marco prohibits the sale or disposal to others of personal records, while companies must be stored for at least six months all the data captured by the servers.
During the first day of this meeting, held on Wednesday, the Latin American representatives denounced the use of Internet by the United States to spy on governments, corporations and heads of State.
The first critic was by Rousseff, who called unacceptable the interception of telephones and emails from her, her advisers and firms by the U.S. National Security Agency (NSA).
Rousseff expressed her outrage at these actions, revealed by the NSA former analyst Edward Snowden, currently in exile in Russia and pursued by the U.S. government.
"We can not allow such acts that violate the individual rights to privacy of people," she said.