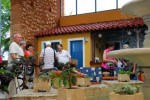 Cuba expects a good tourist year in 2014, supported by initial figures, world goals, and investments to expand its offers, Tourism Minister Manuel Marrero said today.
During a meeting with tour-operators, airline representatives and business people linked to the sector, Marrero stated that, according to the plans, this month will be the best January in recent years with increases from around 13 percent of international visits.
The official, who is attending the 34th Tourism Fair (FITUR) in Madrid, where almost 9,000 business people from 165 countries are participating, stated that the sun and beach modality will remain the flagship of the Cuban product, but accompanied by the cultural and historical legacy.
We are optimist for 2014, a year for which, although it will be characterized by the world crisis, conditions were created to increase service quality, renovated hotels, and new facilities, as a result of the investment process.
In the presence of the general secretary of the World Tourism Organization, Taleb Rifai, his representative for the Americas, Carlos Vogeler, and Cuban ambassador to Spain, Eugenio Martinez, the minister explained the innovations in the Cuban tourist industry.
The development of the non-state sector, with the integration of 7,000 houses turned into hotels and 2,000 restaurants that were already joined in the travel agency offers, were included in this plan.