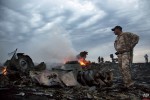 The plane was carrying 280 passengers and 15 crew members, according to Malaysian Airlines
Ukrainian authorities say the Malaysian Airlines plane that crashed over east Ukraine with 295 people on board was brought down by a terrorist act, but pro-Russian rebels fighting in the area denied they were responsible.
Aviation authorities don't yet know what caused the plane to crash. The plane was carrying 280 passengers and 15 crew members, according to Malaysian Airlines.
U.S. President Barack Obama, who was informed of the crash by Russian President Vladimir Putin, has called it a "terrible tragedy" and is offering any American assistance needed.
Malaysian Prime Minister Najib Razak, who is now dealing with a second Malaysian air tragedy, launched an "immediate investigation."
Russian Prime Minister Dmitry Medvedev tweeted, "Hundreds of people lost their lives in the plane crash. Such a tragedy. I mourn for the victims."
There are also unconfirmed reports that the incident could have been direct against President Vladimir Putin plane that was transiting in that area at the time, and could had been the real target.
As plumes of black smoke rose up near the rebel held village of Grabovo in eastern Ukraine, there were many bodies at the crash site near the Russian border.
The plane appeared to have broken up before impact and the burning wreckage was scattered over a wide area. There are no survivors reported up to now.
The airline said in a statement that it received notice from Ukrainian aviation authorities that contact had been lost with flight MH17 at 14:15 (GMT), approximately 50 kilometres from the Russian border.
The plane left Amsterdam at 12:15 p.m. local time and was scheduled to arrive at Kuala Lumpur International Airport at 6:10 a.m. (Malaysia local time) the next day.
The pro-Russian separatists in the area do not have or know how to operate a capable missile system like the one used in the incident, reported the Russian news service ITAR-TASS.
The plane was scheduled to fly into Russian airspace at 17:20 Moscow standard time, ITAR-TASS said, adding it did not communicate with Russian air traffic controllers.
On Thursday, Boeing issued a statement saying they are ready to provide whatever assistance is required.
This is the second recent tragedy for Malaysia Airlines Flight 370 disappeared in March while en route from Kuala Lumpur to Beijing. After an intense international search, the plane has yet to be found.