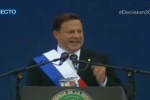 Juan Carlos Varela was sworn in as new President of Panama this Tuesday, in a ceremony attended by representatives of several countries.
Cuban Delegation Attends Inauguration of Panamanian President
The inauguration was held at the Rommel Fernandez football stadium, before some 17 thousand guests and spectators.
The ceremony was attended by Latin American presidents, and top world personalities such as: Otto Pérez Molina, president of Guatemala; Juan Octavio Hernández, of Honduras; Luis Guillermo Solís, of Costa Rica; Salvador Sánchez Cerén, of El Salvador; Mariano Rajoy, president of the Spanish government, and over 20 international diplomats.
Taken from Telesur and translated by Escambray.