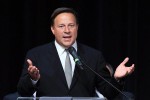 Cuban Vice President Gladys Bejerano heads the island's delegation to the official inauguration on Tuesday of new Panamanian President Juan Carlos Varela.
The delegation also includes Deputy Foreign Minister Ana Teresita Gonzalez and Cuban ambassador Reinaldo Calviac, according to Granma newspaper.
Juan Carlos Varela takes office backed by a legislative minority, which forces him to set up alliances and make promises he is expected to meet very soon, such as lowering the price of basic staples.
The swearing-in ceremony is scheduled to first take place at the Parliament
building and continue later at the Rommel Fernandez stadium to finally wind up with a big party along the Bahia Cinta Coastal Avenue.