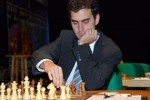 The 49th edition of the International Chess Tournament José Raúl Capablanca in Memoriam begins today with the official celebration of its competitive program.
With the highest Elo average in history, 2,721 points, the contest will run until next May 18 at the Hotel Habana Riviera, where six Grandmasters will struggle to prevail in the Elite Group.
The host Leinier Dominguez stands out as the chess player with highest Elo in the lid with 2,768 units and the tenth position in the business world ranking.
Behind the local idol is Ukrainian Vassily Ivanchuck (2,757), who comes to extend his record of list of achievements (2005, 2006, 2007, 2010, 2011, 2012) that locate him as top winner in the tournament's history.
The list also includes Filipino Wesley So (2,731), the defending champion, Hungarian Zoltan Almasi (2,693), the Spanish Francisco 'Paco ' Vallejo (2,700) winner in 2001, as well as local Lázaro Bruzón (2,682) champion in 2002.
In the tournament will compete a total of 236 chess players, 43 of them foreigners divided into four sections, the Elite, Premier and Open I and II.
The results here, mainly in the sections of the Elite and Premier will help shape the Cuban team to attend the World Chess Olympiad to be played from August 1 to 15 in Tromso, Norway.