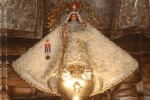 A replica of the image of the Virgin of La Caridad del Cobre will be placed today at the Vatican Gardens, said Pope Francis, sending his greetings to all Cuban Catholics.
During his catechism in Spanish, His Holiness also greeted the bishops who had come to Rome for the occasion.
Proclaimed as Cuba's patron saint for the Catholics in 1916 by Pope Benedict XVI, La Caridad del Cobre is closely linked to Cuba's national history and struggles for independence, said Vatican Radio.
This image accompanied the Liberating Army troops on the battlefields, as they fought against Spanish colonialism, and it was the veterans of that war who wrote to His Holiness requesting the recognition, receiving an affirmative response on May 10, 1916.
Eighty-two years later, on January 24, 1998, Pope John Paul II personally crowned the Virgin representation at the Antonio Maceo Square in Santiago de Cuba, during his visit to the island.