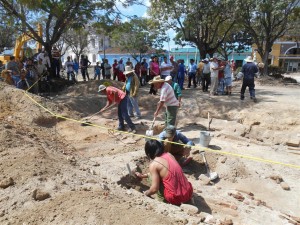 Human remains were found during the excavation works underway around Serafín Sanchez Park.
Archeological Discovery at Sancti Spiritus Serafin Sanchez Park
Historic Treasure Found at Serafín Sanchez Park
A niche with human remains was discovered on the other side of the street, just in the same place where one of the church lateral naves was built.
"At least some vertebras and ribs came out, which are undoubtedly human. (…) We immediately stopped the digging works, and began to clean the area (…)", told Escambray Luis Olmo, archeologist from the Speleological Society of Cuba.
"It is up to the authorities in charge of the reconstruction of the park to decide what's next. A deep archeology investigation in the presence of human remains is not an easy job. It takes time, and special procedures must be followed", he added.
According to Olmo, the discovery is quite important for national heritage. "We hope that at least part of what is found here, will be kept in the park (…). There are other elements in the site with great historic and architectural value, even more important than the human remains", he also said.
Finally, in order to dispel certain local doubts, the expert explained why it's not likely that gold treasures are found here, and affirmed that the former convent was only occupied by monks.