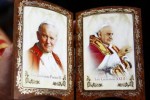 Secretary of State of Holy See, Cardenal Pietro Parolin, welcomed Cuban Foreign Minister, Bruno Rodríguez Parrilla, in Vatican City.
During the fraternal meeting, held Saturday morning, April 26, both parties highlighted the historical and friendly relations between the Vatican and Cuba, so as the need for further progress in the development and deepening of such ties.
Rodríguez Parrilla thanked the support of the Holy See in condemning the blockade and recalled with satisfaction the visits made to Pope John Paul II in 1998 and Pope Benedict XVI in 2012.
The meeting was attended by Monsignor Dominique Mamberti, Secretary for Relations with States, and by the Cuban part, Ambassador to the Holy See, Rodney Clemente López.
Later, Rodríguez Parrilla held conversations with Monsignor Giovanni Angelo Becciu, substitute for General Affairs of the Secretariat of State of the Holy See, with whom he exchanged about bilateral and international matters of common interest.
Cuban chancellor's visit to the Vatican occurred on the occasion of the celebration of the canonization ceremony of Popes John XXIII and John Paul II attended by over ninety international delegations.