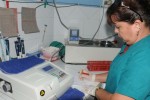 Eighty-four percent of Cubans with diabetes mellitus have a life expectancy of nearly 78 years, similar to that of those who have not suffered the disease, the Granma newspaper reported.According to the Granma report, that result is due to the comprehensive and multidisciplinary approach of Cuban medicine.
Eduardo Alvarez, a second degree specialist in Endocrinology and member of the national technical commission advisor of Diabetes Mellitus at the Ministry of Public Health, told the daily that the prevention of this pandemic has gained strength, starting from local doctors offices and family clinics.
Alvarez said that achievements of the national program for care of the disease include diabetic centers where patients are educated on how to confront this disease.
For his part, Dr. Manuel Raices, of the Cuban Genetic Engineering and Biotechnology Center, stated that expanded use of Heberprot-P, a medicine for treating patients with diabetic foot ulcers, has shown notable results at 48 hospitals and more than 315 polyclinics.
More than 29,000 Cuban patients have benefited from the new vaccine, mainly in areas of primary health care.