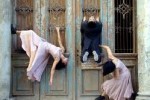 "Arroz con mango",Rice and Mangos, from the Venezuelan choreographer Inés Rojas, will be premiered in the Cuban capital in the upcoming International Festival of Dance in Urban Landscapes, from next April 16.
Organized by the Retazos company, headed by choreographer Isabel Bustos, the encounter is considered by specialists as one of the most prestigious in the continent, which uses public spaces for dance.
The Contemporary Dance Company of Venezuela will perform several pieces, two of them from choreographer Claudia Capriles: "La consagración de la primavera", and "En el nombre del padre", in the squares and parks of Old Havana's historical center, main locations of the festival.
Street dance lovers will also be able to enjoy two fragments of "Los siete pecados capitales", one of them anger, creation by Rommel Nievesy, as well as gluttony, by Leyson Ponce.
Companies from Argentina, Brazil, Canada, Chile, Colombia, Costa Rica, Cuba, Mexico will represent Latin America in this XIX edition of Old Havana city in motion, as it is also known this dance encounter.
European groups from Austria, Spain, France, Norway and Switzerland will also be present.