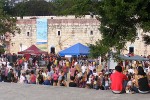 The 23rd Cuba's International Book Fair, scheduled from February 13 to March 9, offers a wide cultural-artistic program, with music as main feature.
Ecuador, the guest of honor in this edition will bring offers like plays, movies, photographic and plastic exhibition and music, besides their books.
Spain, Japan, Colombia, Chile, Mexico, Puerto Rico and Cuba are other countries that will present a broad cultural agenda in the fair.
Artists like Spanish Lucia Socan, Chilean Patricio Maturana, hernan Rivera and the group Punahue, Mexicans Los Verseros and Japanese musicians Yutaka Oyama, Takuya Kato and Yoshimi Tsujimoto, among others, will offer concerts.
The musical presentations, which include Cuban musicians as Adrian Berazain, Cubanos en la red, Tony Avila, Sintesis, Los Papines, and David Alvarez will take place at San Francisco Square in the Fortress of la Cabaña, main venue of the fair.
Alvarez and three Japanese traditional instrumentalists will stage a concert at Mella Theater in this capital next February 23, to open the festivities for the 400 anniversary of the arrival, in 1614, of the first Japanese citizen to this territory.
Raquel Revuelta and Adolfo Llaurado theatres will host the companies Teatro D Dos (Cuba), Teatro del Cielo (Ecuador) and the monologue of the actor from Puerto Rico Teofilo Torres.
Alba Cultural Center will host concerts by troubadours and groups, photographic exhibition Agua Ecuador and circus presentations, while Pabellon Cuba cultural center will be a space for jazz, audiovisual, books loan and children shows, among other.