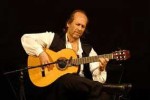 Spanish guitarist Paco de Lucia, who helped to expand flamenco music worldwide, died today in Mexico, said an announcement issued from city hall in Algeciras, Andalusia, where de Lucia was born.
According to the first reports from local authorities, Paco de Lucia, 66, died in Cancun of a heart attack.
Immediately city hall expressed its willingness to hold a funeral ceremony, waiting for a decision from the family of the musician, who had been granted the Honoris Causa by the University of Cadiz University and the Berklee College of Music, among other awards.
Francisco Sanchez Gomez, known as Paco de Lucia, was born in Algeciras on December 21st, 1947. He expanded the international audience for flamenco while his interpretations made him one of the greatest guitarists in the world.
He leaves memorable and outstanding flamenco pieces like "Friday Night in San Francisco", "Passion", "Grace and Fire" and "The Guitar Trio" with Al Di Meola and John McLaughlin, considered among the crown jewels of guitar and jazz.
He was awarded the Prince of Asturias Prize for the Arts (2004) and the Grammy Award in various categories, as well as the Guitar National Award of Flamenco Art and the Gold Medal for Merit in the Fine Arts, among others.
He became famous in the 1970s after recording the bestselling album "Entre Dos Aguas", in 1975 becoming the first flamenco musician to perform at the Teatro Real.
He also formed a partnership with singer El Camaron, recording more than ten albums such as "El Duende Flamenco" (1972) and "Fuente y Caudal" (1973), which gave great exposure to flamenco groups.