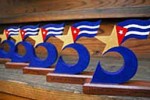 French activist Jacqueline Roussie denounced the ongoing and obstinate media silence and distortion in the case of the Cuban anti-terrorist fighters unjustly condemned in the United States for defending their country.
In her monthly open letter addressed to U.S. President Barack Obama, she pointed out that major media had described Fernando Gonzalez's return to his homeland after completing his prison sentence as "release of a spy."
"The cruel efforts to silence or distort the case still have not ended," Roussie said in her letter, recalling that the Cuban Five, as they are universally known, were never convicted of espionage.
She stated that during the trial held in Miami, people linked to U.S. intelligence services, like Admiral Eugene Carroll and Generals Edward Atkenson and Charles Wilhelm testified that the Cuban Five had never had access to secret information from that country.
As their conviction was to be obtained at any cost, the nebulous and never proven charge of "conspiracy to commit espionage" was lodged against them.
Fernando, along with Rene González, Antonio Guerrero, Gerardo Hernandez and Ramon Labañino, was arrested in 1998, and submitted to a biased trial where the men were condemned to harsh and disproportionate prison sentences.
Rene and Fernando are back in Cuba with their heads held high, and both have joined the struggle for the release of their companions, Roussie said.
At a recent tribunal held in London on the case, the main witness was expected to be Rene Gonzalez, but British authorities denied him a visa to attend the event. In any case, this did not prevent a resounding verdict and condemnation of all illegalities perpetrated in Miami against the Cuban anti-terrorist fighters.