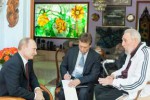 Fidel Castro during the meeting with Russian President Vladimir Putin
The historic leader of the Cuban Revolution, Fidel Castro, met Russian President Vladimir Putin, who paid an official visit to Cuba.
Raul Castro Bids Farewell to Russian President Vladimir Putin
Putin Announces Increase in Cooperation with Cuba
During the fraternal meeting held on Friday, both leaders remembered the historic ties between the two countries and peoples and the growing economic and trade bonds, and exchanged views about the international situation.
According to a press release, Fidel Castro explained to Putin the studies the country is carrying out about the real possibility of producing food in tropical and subtropical countries.
That is nowadays the only efficient way to face the dangerous threats derived from climate change and the consequences of the unequal distribution of natural resources, using knowledge and indispensable technologies, the Cuban leader said.
The meeting with Putin, Russian Foreign Minister Sergei Lavrov, Ambassador to Cuba Mikhail Kaminin and other members of the visiting delegation was cordial and friendly.
Undoubtedly, cooperation between the two peoples, and with most Latin American countries, will be on solid grounds, according to the press release.