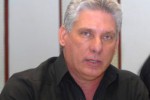 First Vice President Miguel Diaz-Canel is leading Cuba's delegation to the top-level segment of the Association of Caribbean States (ACS), in Merida, Mexico.
The also member of the Political Bureau of the Communist Party of the island arrived yesterday in this capital of the Yucatan state, venue of the meeting, to attend the meeting of Heads of States and Governments belonging to the regional group.
Since Monday, the ACS has been hosting functions related to the event, in which participants will discuss tourism, trade and investment issues, prevention of natural disasters, transportation, and sustainability of the Caribbean Sea.
Deputy Foreign Minister Rogelio Sierra represented Cuba on Tuesday during the special meeting of the Council of Ministers of the organization, in which details were enumerated for the Declaration of Merida that statesmen and top-level authorities are expected to approve today.
The meeting, following the forum held in Haiti in April 2013, is taking place in the context of the 20th anniversary of the organization. Mexico presided over the bloc during the past year.