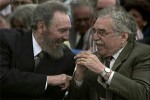 The historic leader of the Cuban Revolution, Fidel Castro, sent a wreath to the tribute held in Mexico to Colombian writer Gabriel Garcia Marquez, to whom he had a strong and lasting friendship.
A white and yellow offering arrived in the Mexico City Palace of Fine Arts, with a dedication: To a Dear Friend.
On Monday, during a tribute dedicated to the 1982 Nobel Literature Prizewinner, a flower arrangement was received by the island's President Raul Castro, who recalled with that gesture that the author of One Hundreds Years of Solitude was a great friend of Cuba.
International media have stressed these days the author's strong friendship with the Caribbean nation, which goes back to the 60s of the last century, when he began to work as a journalist with the then newly created Prensa Latina agency.
As Fidel Castro has expressed, the relationship with the author of "Love in the Times of Cholera" was cultivated for many years, including the hundreds of pleasant conversations they had.
With those tributes, the Caribbean country joined to thousands of people who gathered in the Mexican cultural centre to pay the last respects to Garcia Marquez, who died in this capital on April 17 at the age of 87.
His remains were exposed in the facility's lobby for those who wished to pay him tribute, at a ceremony led by Mexico's President Enrique Peña Nieto, and Colombia's Juan Manuel Santos.