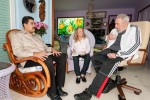 The historic leader of the Cuban Revolution, Fidel Castro Ruz, met with Venezuelan President Nicolas Maduro Moros, who participated in the recent concluded 2nd CELAC Summit.
During a fraternal and pleasant meeting held Thursday afternoon, both leaders exchanged criteria on several issues discussed in the recent concluded summit of the Community of Latin American and Caribbean States (CELAC), held in this capital, and the problems humanity is facing, such as regional conflicts, food production, extreme poverty, climate change, and illiteracy, among others.
Fidel and Maduro talked friendly about the progresses of the Bolivarian Revolution and the Cuban collaboration in important spheres such as health, sports, and education.
They also recalled, with particular emotion, the legacy and example of "the best friend of Cuba." Hugo Rafael Chavez Frias, and his efforts for the establishment of CELAC, whose results and progresses are the best tribute to his ideas.
Yesterday evening, Fidel Castro received the President of the Republic of Suriname,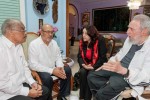 Desire Delano Bouterse, who also attended the recently concluded 2nd CELAC Summit.
During the friendly gathering, Fidel Castro and Desire Delano Bouterse exchanged opinions about aspects discussed in the summit.