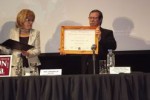 The National University of Lanus (UNLa) in Argentina has granted the Title of Doctor Honoris Causa to the historic leader of the Cuban Revolution, Fidel Castro, for his Latin Americanism, solidarity, and humanitarian work.
"We do not teach only with books, we also teach by good example, and it is Fidel Castro himself who taught us and continues teaching, through his revolutionary example, human solidarity, the correctness of his ideas, his firm resistance and conviction that a better world is possible," said the rector of that university, Ana Jaramillo, at the ceremony yesterday evening.
The victorious revolution he led "taught us to fight for a better world, where solidarity is possible, to strive for Latin American integration, the necessity of decolonization and the value of heroic persistence and resistance," the rector said.
He also taught us that "great works are made collectively with passion and love for equality and that, above all, yes, it can be done." Jaramillo noted.
Before an attentive audience, mostly consisting of students and teachers who filled the spacious "Bicentennial" Main Lecture hall, Jaramillo said that this center has delivered Honoris Causa doctorates to those who have fought to materialize the values the university has shared.
This is the first Argentinian University to grant such a high distinction to the Cuban revolutionary leader.
Lanus's mayor Dario Diaz Perez; the president of Mothers of Plaza de Mayo, Hebe Bonafini; the president of the Committee of Families of the Fallen in Malvinas, Delmira De Cao, and Cuban ambassador Jorge Lamadrid, presided over the act, among other figures.
Also in attendance were local politicians, university leaders, and the director of the Latin American and Caribbean department at the Ministry of Foreign Affairs, Daniel Chuburu.