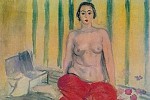 After 12 years of absence ""The Odalisque in red pants", of the French painter Henri Matisse (1869-1954), returns to Venezuela after being recovered by U.S. authorities.
The Attorney General of the Republic, Luisa Ortega, made the announcement and said that the painting was stolen from the Museum of Contemporary Art in Caracas in 2002.
To make viable the return of the artwork was created a commission that traveled to the northern country led by Acting CEO of Public Prosecutions Procedure, Joel Espinoza, explained Ortega during a radio program.
Valued in more than three million dollars the portrait was rescued by U.S. authorities in October 2012 at a hotel in Miami and will be returned to Caracas by the Court Southern District of Florida.
The authenticity of the piece was verified by officials from the ministries of Foreign Affairs and Culture, the District Attorney, the Institute of Cultural Heritage, National Museums Foundation and the Body of Scientific, Penal and Criminal Investigations.
'The Odalisque in red pants' (1925) was purchased in 1981 by the Museum of Contemporary Art at Marlborough Gallery in New York.
The specialized critics locate Matisse, along with Pablo Picasso, as one of the great artists of the twentieth century, known for his mastery of the expressive language of color and drawing.
His production spanned for more than half a century and he is considered one of the emblematic figures of modern art.
Among his most famous works are Window in Nice and Odalisques series, works in which Matisse reflected his taste for the decorative and drawing.