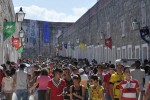 The books Tan solo morir, Poso Wells, and No es dicha by Ecuadorian writers Alfredo Noriega, Gabriela Aleman, and Juan Secaira were launched today at the third day of the 23rd International Book Fair in  Havana.
The people attending the fair also found other books to buy including, Cuerpo Adentro, Historias desde el Closet, and Utopica Penumbra.
Those activities took place at San Carlos Fortress in Havana, main venue of the event, where a lecture and panel were held about the work of Ecuadorian writer Pablo Palacio, whose name is carried by the stand of that South American nation, the fair's guest of honor.
The Coordination Minister of Knowledge and Human Talent of Ecuador, Guillaume Long, also give a lecture about knowledge production in the People's revolution.
A colloquium about the work of Cuban historian Rolando Rodriguez, to whom this fair is dedicated, also allowed to know about his main literature motivations.
The book fair will conclude on February 23 in Havana and will start its tour nationwide until March 9.