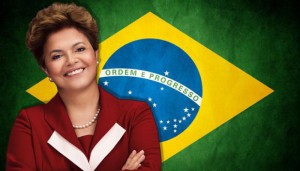 The re-election of Dilma Rousseff means avoiding the return to the past and fostering the process of social improvement, said former president of Brazil, Luiz Inacio Lula da Silva.
When participating in a ceremony in San Gonzalo, Rio de Janeiro, at the end of the election campaign, Lula da Silva stressed that Rousseff represents the Brazilian people, as the candidate of the Social Democracy (BSDP), while Aécio Neves, represents the interests of the bankers.
He warned of the contempt of the Brazilian elite to the poor of this nation, who are the majority, and do not want the government of the Workers Party (PT) and the current president remain in power and improve every day the citizens quality of life.
The oligarchy rejects social achievements over the last 12 years, the idea that the poor occupy new public spaces, travel by plane or walk now with their heads high, he said.
The former president dispraised the BSDP candidate for his disrespect for the head of State in recent television discussions and wondered what this country will be ruled by an irresponsible.
Lula also noted that the candidate of bankers was upset because he called him "daddy's boy", but called Rousseff "frivolous" last week.
To give good treatment and be respectuf with a woman and a head of State is a matter of education and good behavior in society, added Lula.
Lula da Silva also blame the British magazine The Economist for publishing an article in which it bets at Neves victory at the polls in order to ensure growth of the Brazilian economy.
"Recently a magazine called The Economist had apathy, the nerve to publish a story calling to vote for Aecio (Neves). Is this magazine stupid? If bankers want to vote for Aecio, go to vote for him, but Dilma (Rousseff) is the people's candidate," he concluded.