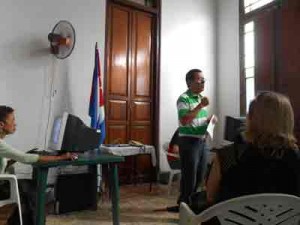 Journalists, editors, translators and all those involved with the digital world participated in the event
With the creation of the Circle of Digital Journalism as a way to give continuity to professional growth, the meeting that gathered editors, specialists and all involved in the digital work of the media ended this Thursday after socializing experiences for two days in the Cuban central province of Sancti Spiritus.
Organized by the Cuban Journalists Association (UPEC, for its Spanish Acronym), it was part of the activities for the National Media Day, celebrated each year on March 14th, coinciding with the anniversary of the founding of the newspaper Patria by José Martí.
The highlights of Thursday's session included the experience of Sancti Spiritus media with projects related to the cause of the Cuban five antiterrorist fighters unjustly imprisoned in U.S. jails.
Thus, it became clear that while Sancti Spiritus cannot get to the bottom of the Five situation on itself, the press of the territory has shown its potential through creative initiatives and coordinated efforts to breach the wall of silence imposed in the mainstream media about the case.
The undergoing that has had reporters Arelys Garcia and Enrique Ojito as key players, is based on projects with René González, the first of the Cuban prisoners to fully serve his sentence, the American actor and social activist Danny Glover, and Rosa Aurora Freijanes, at the gates of the release of her husband Fernando González.
The communicative products resulting from these initiatives, which become an example of professionalism and concrete evidence of what can be accomplished in an ingenious way, were assumed ​​jointly by Escambray (local newspaper), Radio Sancti Spiritus and Centrovisión (local TV), each in accordance with their communication codes and in coordination with other national media that contributed to the socialization of these messages in favor of freedom of the Cuban Five.
In this very day, Juan Antonio Borrego, editor of Escambray, mentioned the progress of that newspaper in the so-called network of networks.
The meeting ended this Thursday after two days of discussions that included other projects related to digital journalism, as the one presented by reporter Gisselle Morales about her blog Cuba profunda, and the highly praised team work of the Escambray's translation staff for the support of the English version of that newspaper. According to the criteria of the participants, the event culminated with favorable results.