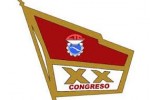 After one year of union debates, the 20th Congress of the Cuban Workers Union (CTC)  begins its final sessions, with the implementation of the guidelines for updating the island's socio-economic model.
Today's agenda includes meetings among leaders of 17 national workers' unions grouped in the CTC (central core), with members of the directive board of organizations and entities of the sectors they work.
Their objectives are to exchange ideas about possible solutions or responses to the workers' statements carried out in discussions prior to the congress, and held in thousands of grass-roots assemblies.
According to Ulises Guilarte, president of the Congress' organizing committee, the debate was participatory and democratic, "and identified with clarity how our members want their union."
We hope it would be a more combative workers' union, to continue its unitary and class nature, and promote confronting crime, corruption, and illegalities, Guilarte said.