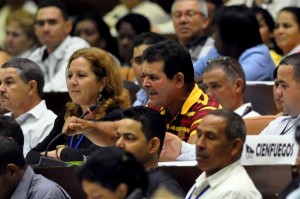 About 1,200 delegates attending the 20th Congress of the Cuban Workers' Federation (CTC) are met this Saturday in plenary session to discuss the objectives of the union until 2021.
During the last day of the meeting, Cuban workers also presented the conclusions of debates discussed in four commissions on Friday.
The functioning of the organization, political-ideological work, economic efficiency and care of workers were among the main issues on debate.
Participants stressed the importance of the union members' assemblies, which are held regularly in every workplace, to improve productivity and efficiency, in conjunction with managers.
The role of Cuban workers within the economic transformation process was one of the issues widely debated, as well as workers' responsibility in the production of goods and
services, and the implementation of programs aimed at improving the country's economic model.
The media's role to disseminate achievements and deficiencies of different labor sectors was also discussed.
Participants in the final phase of debates boosted by Cuba's single workers' confederation, which groups 17 national workers' unions, held sessions on Friday and Saturday at Havana's Conference Center.
Intense activity in the CTC structures was developed starting in October 2012, including the result and renewal of mandates in union organizations, the analysis of the new Labor Code, the main document of the Congress and the statutes of the
organization.
According to CTC statistics, nearly 66,000 assemblies were held to debate the main document resulting from this forum, in which more than 2,851,000 workers participated and 192,500 proposals were submitted.