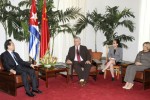 Cuban Vice-President Miguel Díaz-Canel welcomed this Friday the Vice Chairman of the Standing Committee of the National People's Congress of the People's Republic of China Chen Changzhi, who is on an official visit to the island.
The meeting allowed for a fruitful exchange on Cuba and China's social and economic realities, and developed in a climate of brotherhood that has characterized the bilateral relation between both nations.
Other members of the visiting delegation led by Changzhi were also present at the meeting, like Chinese ambassador to Cuba Zhang Tuo, and Cuban parliament vice-president Ana María Mari Machado.
According to the scheduled program, the Chinese parliamentarians will visit places of cultural and historical interest, as well as institutions of the Cuban health-care system.