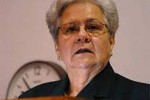 Gladys Bejerano, Vice President of the Council of State of the Republic of Cuba, arrived in Bogota leading the island's delegation that attends the inauguration of Colombia's President Juan Manuel Santos.
The Cuban vice president was welcomed yesterday by a senior official of the Ministry of Foreign Affairs, and came accompanied by Deputy Foreign Minister Rogelio Sierra, and Cuban ambassador to Colombia, Ivan Mora Godoy.
During her stay in this capital, Bejerano will hold meetings with important Colombian political figures, with whom will exchange about the bilateral relations between both countries.
Santos was re-elected on June 15 for a second four-year period with the support of important left-wing sectors and social movements supporting the search of a negotiated solution to the Colombian internal conflict.
Colombian Comptroller Sandra Morelli delivered Bejerano the Medal of Merit for Transparence in Fiscal Control.