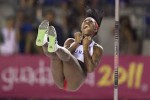 Cuban vaulter Yarisley Silva reaffirmed her class this week with a good start of the season after beating in the Drake Relay competition, in Des Moines, Iowa.
Almost at about to go blank after failing twice, Silva curled on Friday a jump over 4.46 meters which kept her alive.
As the World Cup host Mary Saxer managed to overcome that height, also in her third attempt, and then all was defined by the Cuban with 4.56 meters, before about 20 thousand spectators.
Yarisley did not knock the rod, but was not happy with that, that then jumped cleanly over the 4.66 to shore up her victory, although she couldn't beat the 4.76 later.
A total of 11 athletes were presented with the 2012 London Olympic Monarch Jennifer Suhr as largely absent, and the bronze was held by the Greek Katerina Stefanidi, recording 4.36 meters.
Latin America and the Caribbean, added the title of Jamaican Hansle Parchment in the 110 meter hurdles (13.14 seconds), who beat world champion David Oliver (13.23).
In other results, the Puerto Rican Javier Culson and Dominican Felix Sanchez were second and third respectively in the 400 meter hurdles, only surpassed by the reigning world champion Michael Tinsley.