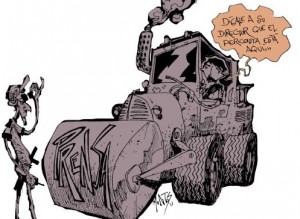 Great challenges face the Cuban Press in its daily efforts to turn the truth (on its broad dimension )into the Holy Grail of its work : a country like ours transforming for the better, a learned and very demanding people,  mental barriers that remain, an adversary that does not take a break  with its evil plans against the nation, a complicated international scenario, full of crises, a challenging immediacy of the news which does not accept delay, the multiplied social networks that promote citizen journalism and put pressure on traditional media.
Our battle lies, as the leadership of the Revolution has asked, in reflecting through words, this diverse, contradictory, uplifting, and sometimes flattering, while others hard and challenging reality to the world. It is about putting ears and hearts to the feelings and suffering of the people; it is about analyzing the phenomena, find their causes, denouncing what is inefficient or sloppy, exalting good deeds and people, criticizing when it is due. It is portraying the complex but beautiful human society we are building, without the unnecessary glitz or the hurtful whip.
That is the inescapable path Cubadebate follows. Doing journalism, as Martí defined, for routing, explaining, teaching, guiding, directing, examining the conflicts, and not irritating them with passionate judgment.
Unassuming the kind approval and the insulting rage; that's the balance, journalists and reviewers seek from Marti; foremost, the collective will of our people has also been reflected in the hundreds of comments each day.
When we look at ourselves, in this Cuban Press Day, we feel that a lot is yet to be done. But we always work with the passion taught by the greatest of all Cuban journalists in the extraordinary pages of the newspaper Patria. For us "El periódico es la vida" (The newspaper is life) also.
Escambray Translation of Cubadebate's Editorial on the Cuban Press.