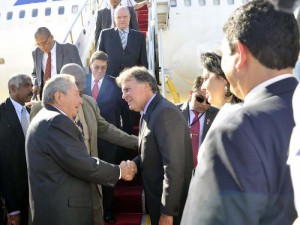 Cuban President Raul Castro arrived in Brasilia, leading a delegation of his country to attend the presidential meeting between leaders from Latin America, the Caribbean and China.
Besides the members of the group formed by Costa Rica, Cuba, Ecuador and Antigua and Barbuda, CELAC (Community of Latin American and Caribbean States), the presence at the meeting of the presidents of the member countries of Unasur (Union of South American Nations) and Mexico is expected.
The members of the Cuban delegation are: Ministers of Foreign Affairs, Bruno Rodríguez Parrilla; and Foreign Trade and Foreign Investment, Rodrigo Malmierca; Deputy Foreign Minister Abelardo Moreno and Cuban Ambassador in Brazil, Marielena Ruiz Capote.