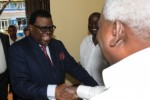 The president of the Cuban parliament, Esteban Lazo, welcomed today here the Prime Minister of Namibia, Hage Gottfried Geingob.
During their meet, Lazo recalled the traditional friendship bonds existing between Cuba and Namibia, and congratulated Gottfried for being elected presidential candidate of the South West Africa People's Organization (SWAPO) in next election in the African nation.
Similarly, the President of the National Assembly of the Popular Power of Cuba (unicameral Parliament) conveyed his congratulations to the people and government of Namibia on the occasion of the 24th anniversary of its independence.
Relations between our countries are increasingly narrower and of more brotherhood, said Lazo referring to the importance of this official visit of the Namibian Prime Minister for the strengthening of economic and commercial ties.
In that sense, the Cuban Minister stated the update the Cuban economic model will allow the opening of many more ways to foster these relationships, through projects such as Mariel Special Development Zone located west of Havana.
Meanwhile, Geingob praised the excellent state of relations with Havana and emphasized the figure of the historical leader of the Cuban revolution, Fidel Castro.